Eva Maria Leijel (1660-1744)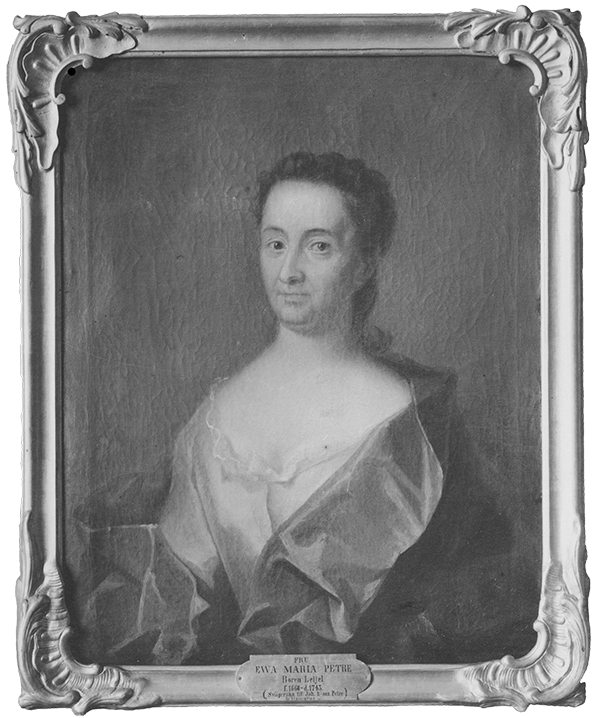 Photo: Nationalmuseum


Eva Maria Leijel was born in Stockholm in 1660, the daughter of James Lyell of Arbroath, Scotland (naturalised in Sweden as Jacob Leijel) and Barbara Maria Dress. She was christened on the 19 April 1660 in the St Nicholai church. (see storkyrkoförsamlingen (A,AB) Cia1:3 (1641-1662) image:72 page: 135).

On the 14 February 1686 Eva Maria married Robert Petrie the Younger (1669-1716) in the St. Nicholai church, Stockholm.
Robert Petrie junior was the grandson of George Petrie, provost of Montrose, Scotland, who died in 1627. Robert Petrie the younger became a burgess of Stockholm on 9 July 1690. His father, also Robert, and his brother Welam operated Hofors iron works.

Eva Maria and Robert the younger had three daughters.
The eldest, Margareta, born in 1691, married Carl Svedenstjerna in 1727. Carl Svedenstjerna's farther was ennobled on the 21 Sep 1719 and introduced in 1720 as Svedensternja, nr 1659.
The second daughter, Eva Catherina, was christened in St Nicholai church, Stockholm on the 8 April 1693.
The youngest daughter, Eva Maria, was born on the 22 June 1703. On the 19 November 1721 Eva Maria married the nobleman Ludvig von Schantz (1692-1730) in Stockholm.

Eva Maria inherited Hammarby mill, and agricultural and rural property in Nora and Linde parishes, Örebro County in 1761 following the death of Jacob Möhlman.
Eva Maria Leijel died in March, 1744.
---