Henry Lyell (1665-1731)
Henry Lyell was born in Sweden in 1665, the son of Henrik Patriksson Lyell (1627-1710) and Judith Rokes (1647-1705).
Henry Lyell went to England in ca. 1700 where he is listed as one of His Majesty's Commissioners for the Lieutenantcy of the City of London (1723) and Member of the Deputies and Common Council men for the region of Broadstreet in the City of London. for the year 1722. However he also held this position in 1713 (see p646 of Magnae Britannicae notitia by John Chamberlayne, 1713).
He was appointed as a Governor of Bridewell Royal Hospital on 30 June 1710
http://www.londonlives.org/browse.jsp?div=BBBRMG20203MG202030589
He served as governor of Bridewell from Dec 1701 until July 1714.
On 10 April 1711 he was elected a Director of the United Company of Merchants trading to the East Indies (East India Company). He was elected to be Chairman of the board of Directors of the East India Company in 1718, 1721 and again in 1726.
On 20 Mar 1724, Henry Lyell was appointed a governor of St Thomas' Hospital.
http://www.londonlives.org/browse.jsp?id=LMTHMC55203_n2254-9&div=LMTHMC55203MC552030348#highlight
He was reappointed governor of St Thomas Hospital for the last time on 25 Mar 1728.
He died in London on the 2nd Feb 1731 at the age of 66 years, having resigned from the Directorship of the East India Company the previous year due to failing eyesight.
(see Gentleman's Magazine or Monthly Intelligencer for the year 1731 by Sylvanus Urban, London, 1731).
His wife died before Henry on 4th November 1727 (see the Political State of Great Britain vol XXXIV page 516, containing events of July to December 1727 published in London by Mr. Boyer
Click on pictures for PDF-document
Henry´s last will and testament
His last will and testament is preserved in the UK National Archives as document
PROB 11/642/221 , 3 Feb 1731.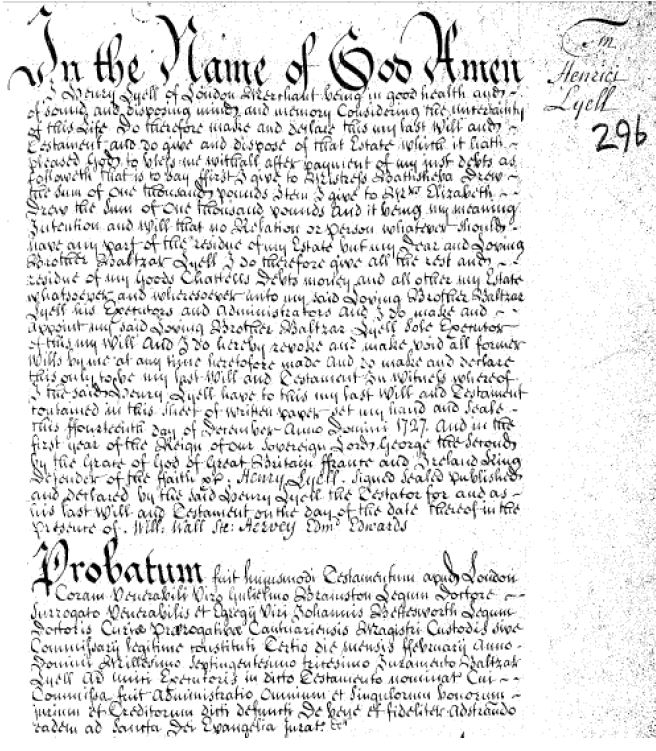 Click on picture for PDF-document
Source:
UK National Archives, document PROB 11/642/221, 3 Feb 1731