The Leijel Family and Knole House
Henrik Leijel was born in Stockholm in 1717. He inherited wealth and estates in Sweden from his mother but in 1781 sold all his Swedish property, having earlier emigrated to England. Here he inherited Bourn Hall from his rich uncle Baltzar Lyell1 who was born in Sweden but was then settled in England and had been appointed to be a director of the London based East India Company. Henrik Leijel changed his name to Henry Lyell and was naturalized by Act of Parliament.
Henry married Catherine Allestrie in 1756 and their daughter Catherine was born in the same year. In April 1783 this Catherine Lyell2 married the 4th. Earl de la Warr, John Richard West, thus becoming Countess de la Warr.

Knole in 2009 Photo by DAVID ILIFF. License: CC BY-SA 3.0
Knole House3 lies in its own large park close to Sevenoaks in the County of Kent. The house was first mentioned in 13644. In 1456 the property was bought by the Archbishop of Canterbury, Cardinal Thomas Bourchier5 for £266 13s 4d. After Bouchier's death in 1486, Knole was occupied by the next four Archbishops down to Thomas Cranmer6.
Inevitably, King Henry VIII, who used to hunt deer in the neighbourhood, coveted the estate, and Knole became a Crown property in 1537.
King Henry's daughter Elizabeth ascended to the throne in 1558 as Queen Elizabeth I and she possibly granted Knole and its deer park to Thomas Sackville7. For the next 400 years, Knole has remained in the possession of the Sackville family.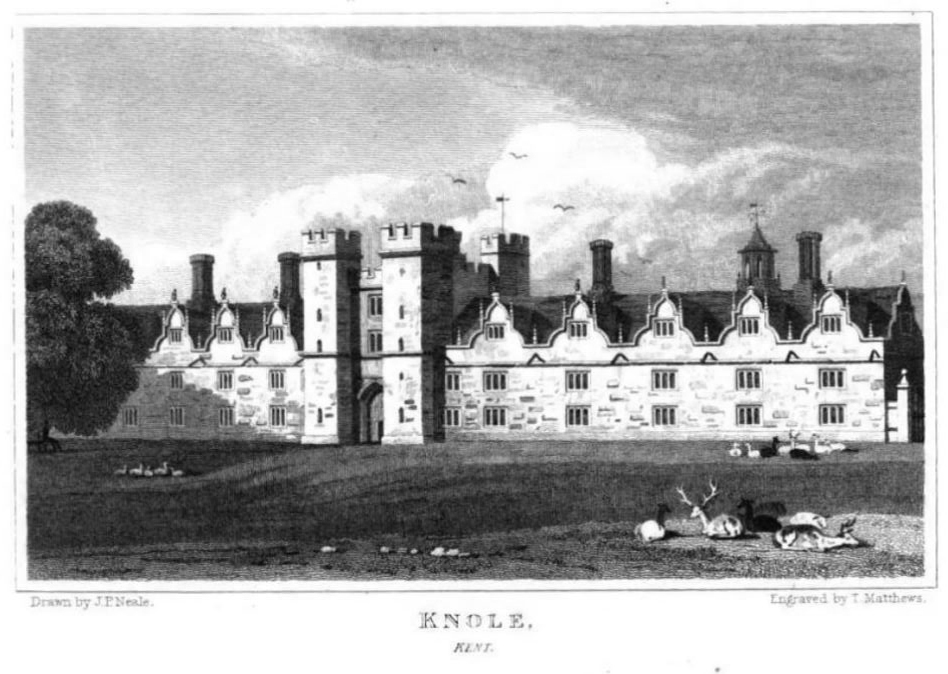 A view of Knole when in the ownership of Arabella Diana, Duchess of Dorset, can be found in the book "Views of the Seats of Noblemen and Gentlemen of England, Wales, Scotland, and Ireland" which also lists some of the more important portraits to be found in the house. The volume containing Knole was published in London in 1819.
The 3rd Duke of Dorset, John Frederick Sackville, was an avid art collector and purchased several important paintings by Reynolds of which 11 still hang in the house.
The 3rd Duke died in 1799 and his daughter Elizabeth married George John West, 5th Earl de la Warr in Knole in 1813. The 3rd Duke of Dorset's widow Arabella Diana, nèe Cope, died on 1 August 1825 and Knole was inherited by the eldest daughter Mary Sackville who died in 1864. Knole was then left to her sister Elizabeth, Countess de la Warr8.
The remarkable house Knole, one of the 5th largest houses in Britain, with its 365 rooms, 52 staircases, and courtyards Is now owned by the National Trust and visitors can organise a tour through them.

Click on picture for a larger version.
Link to National Trust page about Knole Link
---
Sources:
1 Gustaf Elgenstierna, Den introducerade svenska adelns ättartavlor (Sweden: n.n., 1928), volume 4, pages 518-521).
2 The London magazine, or, Gentleman's monthly intelligencer Vol XXV for the year 1756
3 The article "A House through Time" in July/August issue of the magazine Britain, published by the Chelsea Magazine Company.
4 https://en.wikipedia.org/wiki/Knole
5 Ca. 1411 – 1486
6 1489 – 1556
7 Thomas Sackville, 1536 – 1608, 1st Earl of Dorset, Baron Buckhurst , Lord High Treasurer of England.
8 Elizabeth Sackville-West, Countess De La Warr and 1st Baroness Buckhurst (11 August 1795 – 9 January 1870).