Lars Henrik Leijel (1781-1844)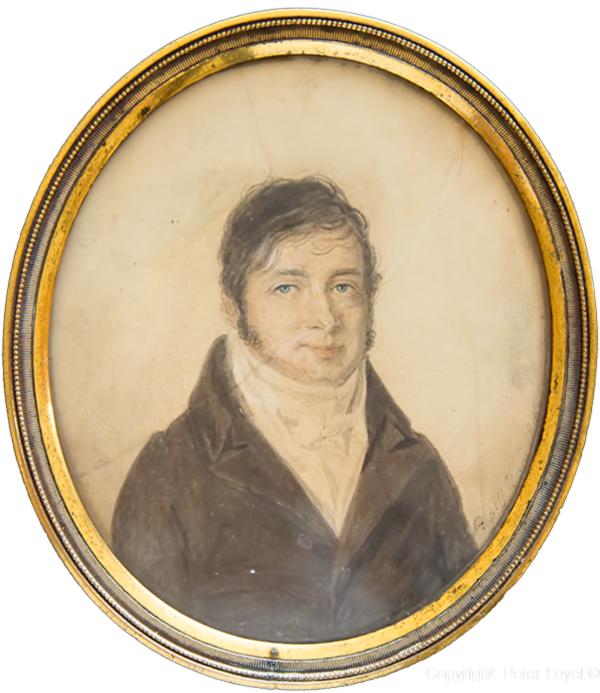 Lars Henrik Leijel was born in Brunna, Vänge Parish on 19 September 1781, the son of Lars Frederik Leijel (1743-1808) and Helena Dorothea Bratt (1763-1832).
Like his father, Lars Henrik started a career in the Army, becoming an armourer in Upplands Regiment in 1799 at the age of 18. He was afterwards commissioned as an Ensign in the Dal Regiment, resigning in 1809.
In September 1813 he married his first wife Abrahamina Frederika Löwenhielm, daughter of Major Frederik Löwenhielm (1750-1822), enobled Nr. 1791, and Maria Hedvig Hülphers (1767-1842). They were divorced in 1826.
Lars Henrik next married Frederika Blomgren in June 1830. The youngest son of this second marriage was Carl Frederik, born in Nytorp in 1836. Carl Frederik was the last surviving male member of the Swedish noble family number 1532 to have lived in Sweden.
Lars Henrik Leijel died in Stockholm on 6 March 1844.
---
The photograph shown here of Lars Henrik Leijel is taken by Mats Eriksson of a miniature portrait painted in 1816 by Leonard Henric Roos af Hjelmsäter (1787-1827), son of Carl Adam Roos af Hjelmsäter and Gustava Sophia Bratt, and thus a first cousin of Lars Henrik, as Gustava Sophia Bratt was the sister of Helena Dorothea.
The portrait is in the possession of Lars Henrik's great great grandson, Peter Leyel.