The Discovery of Sweden's Largest Treasure
In October 1937 two construction workers, Westerberg and Karlsson, were doing repair work in a former potato shop at Lilla Nygatan 5 in Gamla Stan, Stockholm. As they broke through an old concrete floor in the basement of the shop they discovered an immense hoard of silver coins and silver pieces hidden below the floor.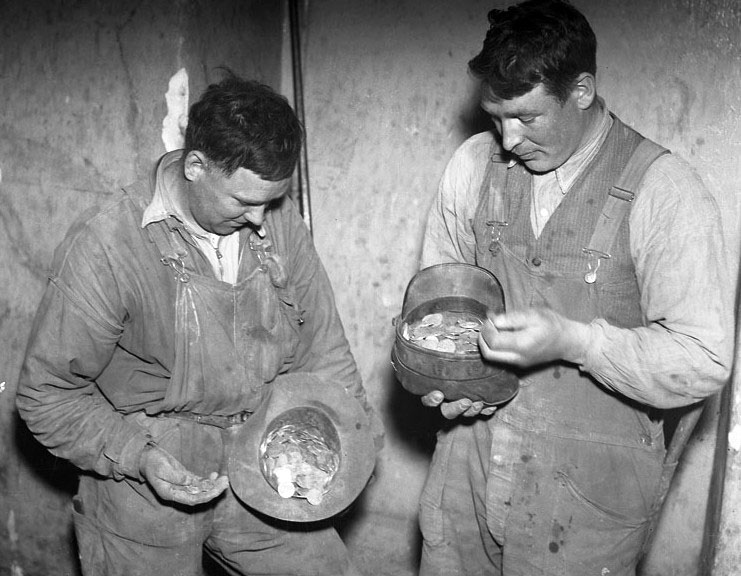 Westerberg &Karlsson with some of the treasure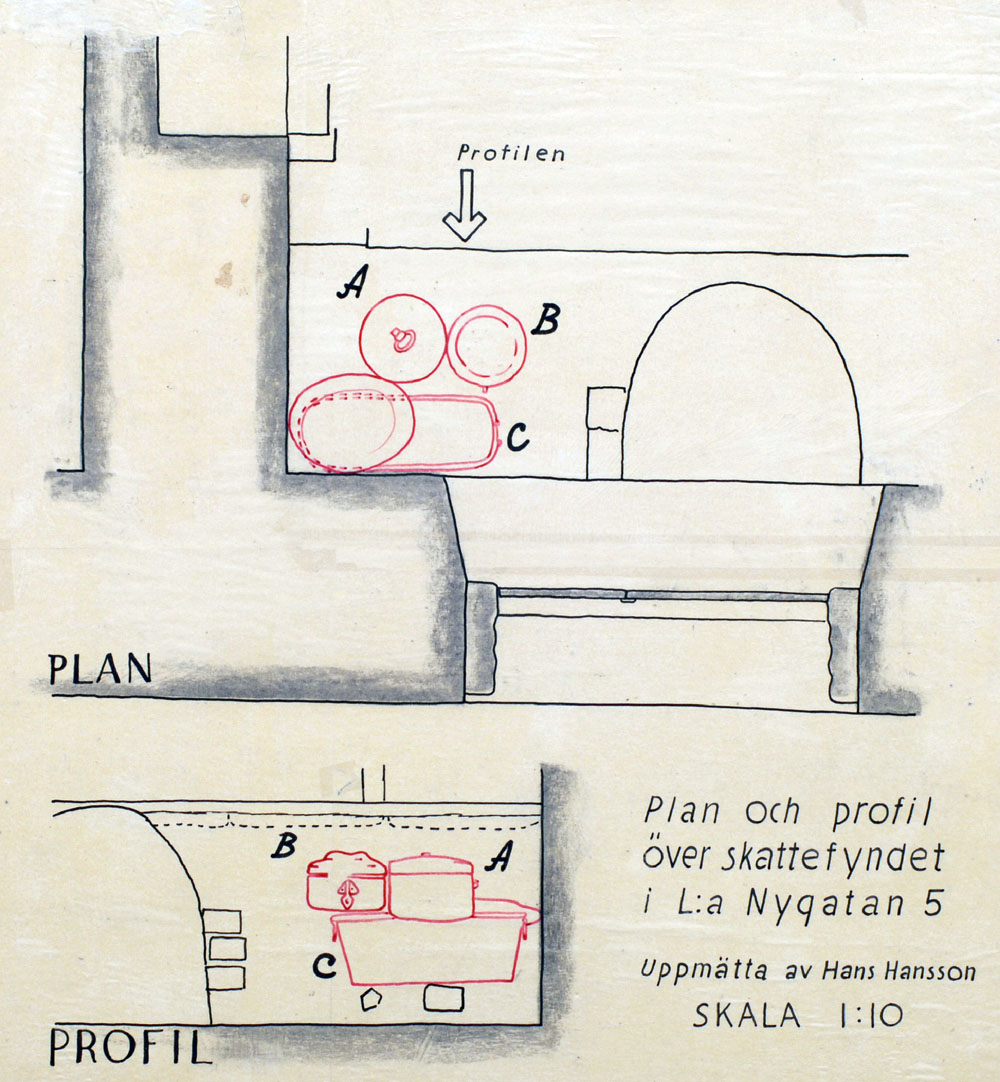 Plan showing where the treasure was found
In all over 18,000 silver coins, and 85 silver articles such as spoons, jugs, candlesticks and bowls (see photos below) were found. Everything was hidden in three copper vessels, buried long ago. The hoard of coins consisted almost entirely of silver marks of various denominations, and some courant and ore pieces for the period 1738–1741 when production of the mark was suspended. The latest coins were dated 1741 and the earliest from the early 17th century. The total weight of silver was 205 Kg and the value of the treasure would be worth fifteen million US dollars (100 million SEK) today.
The treasure can be viewed at two museums, coins in the National Museum of Economy, larger silver items at City museum in Stockholm. Such a large find of coins collected over many years naturally drew the attention of renowned numismatic experts such as Bengt Thordeman.
Thordeman's (1948) paper is an extremely important landmark in the analysis of coin hoards, not only for its relatively early date, but also for the importance and influence of its conclusions. Thordeman dates the hoard to 1743, the date of a serious uprising in Stockholm following a march on the city by men from Dalarna caused by reverses in the war against Russia.
Thordeman was curious to discover why the representation of different years of issue varied in the hoard and decided to plot the numbers of coins in the hoard (expressed in marks) against the output from the mint, for which records survived. A high level of agreement was found. 1Plotting further graphs, he was able to estimate the average loss rate of coinage at 2% per annum. To confirm the principle that hoards can represent coins as struck,
Thordeman examined a further 30 hoards, although he presented the results from only one, the Hakarp (Småland) hoard, and found that in all cases "the agreement was better than I could image one had a right to expect".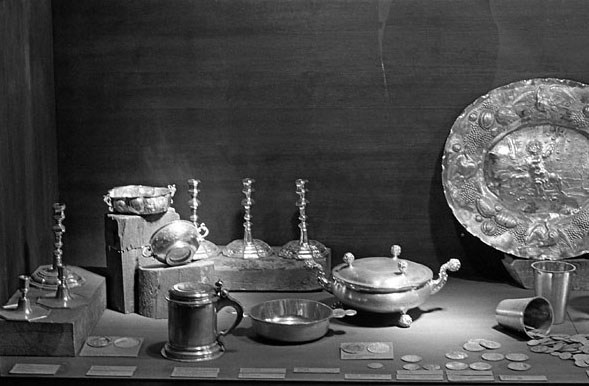 Some of the Silver from the Treasure
The Lohe Family
In the 1740s, the house at Lilla Nygatan 5 was owned by the Noble family Lohe.
Johan Lohe, enobled Lohe in 1703, born on 28 October 1643 a mile from Jewer, Ostfriesland in Germany, died 1704 in Stockholm, was a Swedish nobleman and works patron. He was born probably on his father's estate at Meringsburg in Germany.
When 15 years old, he moved to Stockholm, where for some years he lived with his cousin Henrik Lohe. On 7 December 1673 Johan married Anna Blume. She was the daughter of the royal courtier Tobias Blume from Spandau and his second wife Anna Tecklean.
Johan and Anna had 18 children, 13 of whom survived to become adults.
In 1686 Johan Lohe bought Hälleforsnäs mill from Börje Cronberg and two years later incorporated Ströms Bruk in what would be a large works empire. He also took sugar refineries, iron works, a trading house, shipping company and banks.
Johan Lohe died 1704 in Stockholm, and is buried in the Lohe family grave in Fors church in Eskilstuna. His wife Anna Blume, who survived him by 27 years, died on 23 January 1731. After his death she managed the family's enormous wealth and purchased a house on Lilla Nygatan 5 in the old town where she dwelt together with two of her unmarried children; Adolf Tobias (born 1683) and Johanna (born 1690).
Adolf Tobias Lohe and his sister Johanna both died in 1759. Another of Johan and Anna's daughters, Hedwig Lucia, born in 1684, had married Adam Henriksson Leijel in 1713, but Adam died in 1744 and his widow Hedwig Lucia lived on at Biby, dying there in 1770.
The sole male heir to the Lohe family fortune was Conrad Anton Lohe, born in 1685 and who died in 1763. Conrad married the 25 years younger Beata Skeckta, who was of the same evil character as her husband. Dishonesty, avarice, greed and incessant processes, to get someone to face trial, were the only things that could please them. Their only son, who lived in poverty, is said to have drunk himself to death at a young age at Uppsala University2.
It is not known for certain who hid the Lohe treasure but it would seem that this must have been Adolf Tobias Lohe, possibly together with his younger sister Johanna.
From the dates of the coins found, the treasure was obviously hidden after 1741 (the date of the latest coins in the hoard).
Anna Lohe who had bought the house died in 1731, but her two children lived on there until they died in 1759.
Lilla Nygatan 5 is now the Victory Hotel. The name commemorates Admiral Lord Nelson's flagship Victory rather than the treasure found in the cellar, the owner of the hotel being an admirer and enthusiast of Lord Nelson, the British Admiral who defeated the combined Spanish and French fleets at the battle of Trafalgar in 1805.

Lilla Nygatan 5, Gamla Stan
---
Notes:
1 The Lohe Hoard: A Contribution to the Methodology of Numismatics , Bengt Thordeman, 1949.
2 See http://frakentorp.se/om.html
Sources:
http://sv.wikipedia.org/wiki/Loheskatten
http://www.stockholmskallan.se/Soksida/?ft=Loheskatten
http://discovery.ucl.ac.uk/5067/1/5067.pdf
http://sv.wikipedia.org/wiki/Dalupproret