Swedish Properties inherited by Henrik Leijel (1717-1803) from his mother Hedwig Lucia née Lohe (1684-1770) and sold to Baron Gustaf Celsing in 1781
Introduction
Henrik Adamsson Leijel decided to leave Sweden and settle in England. He was naturalized in England by Act of Parliament in 1739 (13th year of the reign of King George II) as Henry Lyell. From his uncle Baltzar Lyell , a director of the East India Company, he inherited the estate and manor house of Bourn in Cambridgeshire, England (See photograph below). He married an English woman, Catherine Allestrie, in September 1756 and they had a daughter Catherine who married John Richard West, 4th Earl de la Warr, on the 22 April 1783 in Westminster, London. Some 18 months before his daughter's marriage Henry Lyell sold all his property and estates in Sweden to Baron Gustaf Celsing.

Bourn Hall, Cambs., England
---
Source: http://www.nationalarchives.gov.uk
Gustaf Elgenstierna, Den introducerade svenska adelns ättartavlor (Sweden: n.n., 1928), volume 4, pages 518-521)
Hälleforsnäs Mill, Södermanland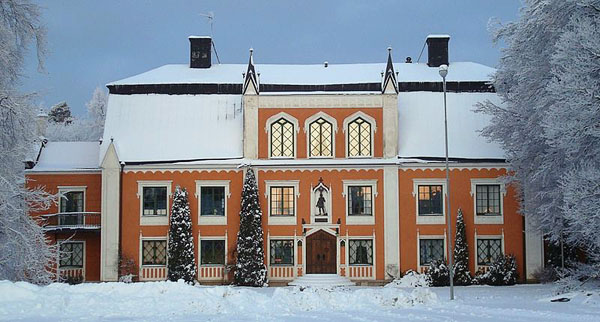 Hällefors Great House or Mansion
The Early Years
The mill was built in 1659 by the miner Albin Noij, who had received the privilege to mine iron ore and who built a scrap mill with a blast furnace for casting cannons. Noij died in 1665 and the mill was operated by his relatives for the next two years. The mill was then sold to the Master of Interest rates Börje Cronberg. Cronberg died in 1673 and in 1686 it was time for a change of ownership again when the renowned industrialist and ironmaster Johan Lohe (1643-1704) succeeded the Cronberg family as owners of the mill and works.
The Lohe and Leijel Family Era
Lohe, who never lived in Hellefors, died in 1704 and left the estate as an inheritance to his daughter Hedvig Lucia. In 1713 Hedvig Lucia married the Scottish noble Adam Leijel (1669-1744). During this era the works manor house was erected , which then represented a two-storey building with five windows on the facade with the wings, this according to a map from 1716. The family lived at times in the manor and held the wedding for one of their daughters there in 1741. (Anna Adamsdotter Leijel married Lorenz Jacob Adlerstedt in Hällefors on 30 August 1741). Adam Leijel died in 1744, and his widow Hedwig Lucia then came to manage the estates, farms and works for over 25 years until her death in 1770 at Biby manor. The son Henry Lyell (born Henrik Adamsson Leijel in Stockholm in 1717) , who thus inherited the large works empire that his parents had acquired, chose to sell the entire empire and instead devote his life to his English uncle's large commercial buildings. Thus was a nearly 100-year-old Lohe / Leijel era over.
Celsing family era (1781-1920)
In 1781 the president of the Board of Trade Baron Gustaf Celsing bought all Henry Lyell's property. The development in the 1600 - and 1700s had been somewhat modest and most of the workers lived in cottages around the mill. In the 1800s, however, the practice grew well under the family Celsing's management to become a large and modern industry.
Hällefors Great House or Mansion
The first drawing of the mansion that later came to be called "Great House" is derived from a map from the year 1716. The house originates from 1756 and was built by Hedvig Lucia Leijel. However, it was during the era of the Celsing family that the building got its current appearance. (See photo above.) "Lasse Celsing" hired as architect Johan Fredik Åbom to dress Hedvig Lucia Leijel's wooden house with brick. The reconstruction took place from 1842 to 1844 and was in the modern Gothic Revival style with pointed windows and entrance door.
---
Source: https://sv.wikipedia.org/wiki/H%C3%A4lleforsn%C3%A4s_Bruk
Biby, Gillberga Parish, Södermanland

Biby Manor
Biby Manor Biby is mentioned in an inheritance in 1418, when Mrs. Sigrid Uddormsdotter and her husband, a Knight at the Royal Palace Bo Djure, among other goods, received "in Gillberga parish a farm called Biby". Thereafter we know nothing about the farm until the end of 16th century . It was owned then by the Privy Councilor Claes Göransson Stiernsköld . After his death in 1583, it went to his son Privy Councilor Göran Claesson (1552 – 1611), who in 1611 left it as an inheritance to his son Admiral Nils Stiernsköld. The Admiral was killed in the bloody sea battle outside Gdańsk in November 1627. When his son Admiral Claes Stiernsköld died in 1676 ending the male lineage Biby was inherited by his daughter Anna Elizabeth, wife of Admiral Baron Gustaf Adolf Sparre. After the admiral and his wife's death, in spite of some relief and the fact that they were able to keep the estate during their lifetime, serious reductions proved to be so difficult that they undermined the family's financial position.
The Riksbank forced a public auction and Biby was sold to mill owner and director Johan Lohe. After his death in 1704 the estate was owned by the heirs for a time, until Governor Adam Leijel (who had married Johan Lohe's daughter Hedvig Lucia in 1713) took over the estate in 1741. After his death in 1744 his widow Hedwig Lucia owned Biby and after her death at Biby in 1770 ownership of the estate passed to her son Henry Leijel. However Henry Leijel had moved to England to take over the management of his uncle's estate and fortune, and in 1781 he sold all his inherited Swedish properties, including Biby, to President Baron Gustaf Celsing and his younger brother Ambassador Ulrik Celsing.
Biby remained owned by the Celsing family from 1781 until 1952.
---
Sources: http://www.hvarsta.com/biby.htm http://sv.wikipedia.org/wiki/Biby
Testament of Adam Leijel and Hedvig Lucia Lohe, dated 1745. Centre for Kentish Studies, Maidstone, England (document U269 E347/3)
Gustaf Elgenstierna, Den introducerade svenska adelns ättartavlor (Sweden: n.n., 1928), volume 4, pages 518-521)
Baltazar Leijel's Testament. Document at East Sussex Record Office, England DLW/586 dated 28 Aug 1750
Journal of House of Lords, Vol XXV , 1736-1739 (Act of Naturalisation of Henry Lyell 13 GEO II)
1 Regeringsgatan, Stockholm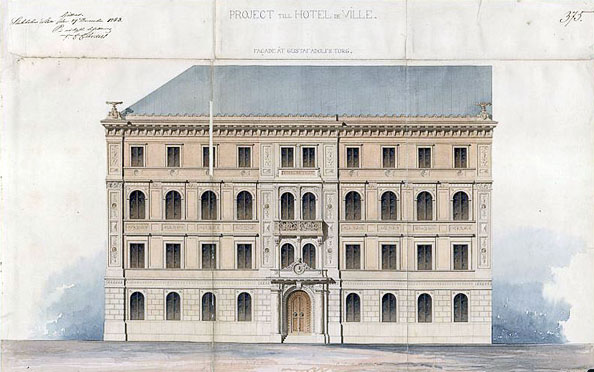 1 Regeringsgatan, Stockholm
On 23 January 1776 Baron Gustaf Celsing bought from Henrik Leijel, one of the heirs to the rich industrialist Johan Lohe, who had moved to England, the stone house in Stockholm at the corner of Gustaf Adolfstorg and Regeringsgatan (now with address No. 1 in the same street).
The original stone house was replaced in 1857 by the Hotel Rydberg (see picture above), itself demolished in 1914 and replaced by the building now on this site.
A few years later on 20 December 1781 Baron Celsing acquired from the same vendor, Henrik Leijel, all the significant Lohe-Leijel family works and property complexes in Södermanland and Närke consisting of Biby and Värsta in Gillberga Parish, Fjällskäfte in Flöda Parish, Fräkentorp in Lilla Malms Parish and Smedtorps forge in the same Parish and Hällefors works in Lilla Mellösa Parish with all their subsidiaries, manpower and inventory for the sum of 99,000 Riksdaler.
However a deal of this magnitude greatly exceeded Baron Celsing's fortune, so he reached an agreement with his brother Ulrik Celsing before signing the contract on 7 November 1781 that he would participate in the purchase, and it was also Ulrik Celsing for the most part (11/16) who paid the purchase price.
Fjällskäfte, Flöda Parish, Södermanland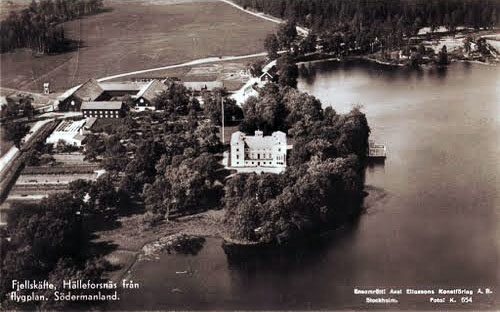 Fjällskäfte Mansion from the Air
Fjällskäfte Mansion from the Air Sometime after the purchase on 4 November 1783 Gustaf Celsing received a sales tax letter (4 November 1783) for a dozen homesteads, on which the tax sale proceedings had long finished. It is mentioned also that he made arrangements for the modernization of the mills. His fortune, which at his death was over 70,000 crowns, and after deduction of liabilities estimated at over 46,000 crowns, he bequeathed on June 18, 1788 the entailed estate rights to his brother Ulrik.
---
Source: Gustaf Celsing, http://www.nad.riksarkivet.se/sbl/artikel/14753, Svenskt biografiskt lexikon (art av B. Boëthius.)
Fräkentorp, Lilla Malma Parish, Södermanland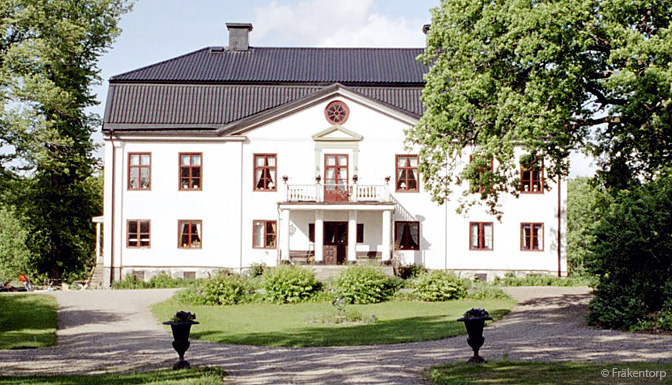 Fräkentorp mansion
Fräkentorp is located in Little Malma parish, Södermanland, by lake Björken (also called Bjuren which occurs in older literature, and means beaver), south of Eskilstuna. It was only during the Middle Ages that solid houses were built in the Fräkentorp surroundings. Fräkentorp was known in 1599 (then the spelling was Frechnetorp, meaning "croft", often used to denote a new building) and was a royal estate.
The main farmhouse, Fräkentorp, was bought by nobleman David Stuart in 1638. Johan Lohe (a very wealthy German), who then jointly owned Hellefors (which became Hälleforsnäs), Smedstorpsvägen, Hvarsta and Biby, next bought Fräkentorp.
Lohe's daughter Hedvig, who lived to the age of 86, married Adam Leijel (Lyell) in 1713. Hedvig Leijel's son Henrik sold all the properties in 1781 for 80,000 species (being comprised, in addition to the above, Fjellskäfte) to President and Commendören Baron of KNO Gustaf von Celsing, who made the entire property into an entailed estate. After Gustaf von Celsing's death the estates went to his brother Envoy and Commendören Ulric von Celsing (died 1805), who enlarged the properties through additional purchases, and established in 1804 a new trust in favor of Commendören Lars Gustaf von Celsing (1763-1810).
Fräkentorp main building was constructed in the 1700s (1600s of Sv. Estates and Farms 1958-59) which then only consisted of a ground floor. In 1801 the additional floor was built onto the house and it got its current appearance in the Gustavian style. The barn was built in 1872 in granite, with small dark stones wedged in the broad murfogarna as decoration.
In 1781 Baron Gustaf Celsing bought Hellefors works (now Hälleforsnäs) and estates around, including Fräkentorp. This Celsing was a diplomat and had returned to Sweden from service in Turkey, where he had made a fortune, to become president of the Board of Trade.
When Gustaf Celsing died in 1789 his brother Ulrik took over, although he had been a diplomat. He came to rule over an extensive entailed estate consisting of lands and works properties not just in Södermanland but also in Narke. Ulrik Celsing died in 1804 and then Fräkentorp came to be inherited by a nephew, Major Lars Gustav Celsing.
Next generation that took over was also named Lars Gustav Celsing, but was called Lasse Celsing who however lived at Fjällskefte. Lasse Celsing came to mean a lot to Hälleforsnäs works, the famous brand HF, where he was director for 47 years (1829-1876). His saying "For God and Lasse Celsing nothing is impossible," testifies that he was an energetic and knowledgeable person who was not afraid of challenges. When the railway Oxelosund Flen-Västmanland was built, it was Lasse Celsing who made sure the layout went through Hellefors (currently Hälleforsnäs) instead of Malmköpingsvägen. In addition, the railroad did not go too close to the mill. Lasse Celsing feared then that the workers would stand and "glob" at the train instead of working.
---
Source: http://frakentorp.se/om.html
---
Translation to English by Peter Leyel