Abrahamina Fredrika Löwenhielm (1792-1837)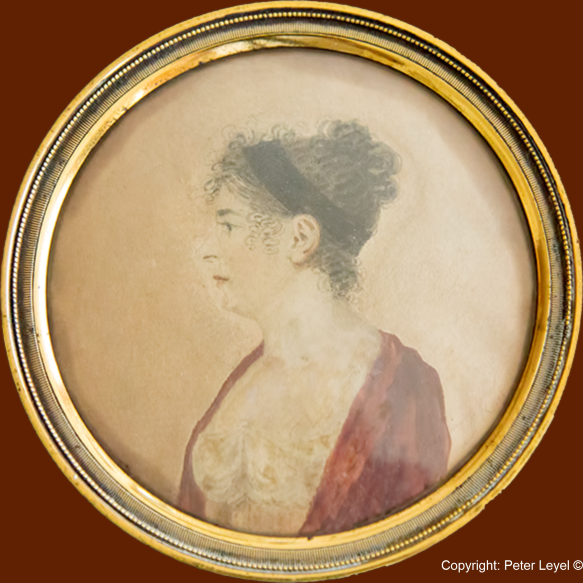 Abrahamina Fredrika Löwenhielm was born on 2 October 1792 in Bro, Uppland, the daughter of Major Frederik Löwenhielm, enobled Nr. 1791, (1750-1822) and Maria Hedvig Hülphers (1767-1842).
Her twin sister Hedvig Maria Löwenhielm died unmarried in Åmal in 1865.
Maria Hedvig Hülphers was the daughter of director Abraham Hülphers and Anna Christina Grave.
On 19 September 1813 Arahamina married Ensign Lars Henrik Leijel. They were divorced in 1826, and Arahamina died at Bynsberg, Bro Parish on 30 October 1837.
---
The photograph shown here of Arahamina Fredrika Löwenhielm is taken by Mats Eriksson of a miniature portrait painted in 1819 by Leonard Henric Roos af Hjelmsäter (1787-1827), son of Carl Adam Roos af Hjelmsäter and Gustava Sophia Bratt, and thus a first cousin of Lars Henrik Leijel, whose mother Helena Dorothea Bratt was the sister of Gustava Sophia.
The portrait is in the possession of Lars Henrik's great great grandson, Peter Leyel.