Baltzar Lyell (1672-1740)
Baltzar Lyell was born in Sweden in 1672, the son of Henrik Patricksson Lyell (1627-1710) and Judit Rokes (1647-1705). His brothers were Henry, Adam and Jacob. He had two sisters Emerentia (married to Mårten Bunge in 1681) and Eva (married to Henrik Insenstierna in 1684).
Baltzar was registered as a student of Uppsala University for the year 1684, in Wittenberg in 1691 and in Leipzig in 1692.
In 1700, Baltzar Lyell had left Sweden and was living in London. A certificate signed by John Edzard, Minister , dated 6 February 1700 states that "Baltzar Lyell, from Stockholm, received the Sacrament, according to the usage of the Protestant Church, on 4 Feb 1699-1700, at the High German Church, London". (See National Archives, document reference HL/PO/JO/10/6/5/1524).
He was first elected as a director of the East India Company on 3 April 1728 (see Vol XIII of the Historical Register, London 1728). He married his servant Elizabeth and remained a director of the East India Company until his death in 1740.
He was appointed by His Majesty to be a governor of the Royal Hospital at Greenwich on 26 November 1727. (See Historical Register, Containing an Impartial Relation of All Transactions, Foreign and Domestick, Volume 12, H.B. Meere, 1727, London)
By letter patent given in 1730 by King George II, Baltzar Lyell is listed as one of the governors of Greenwich Hospital entitled to receive dues to be paid by all shipping passing near the North and South Foreland Lighthouses in the county of Kent, the money to be used for the maintenance of the lights and for the benefit of the Royal Hospital at Greenwich. (See Copy of Patent of South and North Foreland Lights from Selection of Reports and Papers of the House of Commons: Foreign trade ; [2], vol 20 1836)
In 1733, Baltzar purchased two properties: Haslingfield Hall, Cambridgeshire, from Sir Roger Burgoyne and the Manor House and Estate of Bourn, also in the county of Cambridgeshire, which continued in possession of Baltzar's widow Elizabeth until her death in 1752, when it passed to Baltzar's nephew Henry.
He died at his home in Throgmorton Street in the City of London, England in 1740.
Baltzar's will (dated 20 Feb 1733) left his estate first to his wife Elizabeth, then after her death, and if there were no heirs, to his nephew Henry Adamsson Leijel, remainder to his brother Adam.
Click on pictures for PDF-document
Baltzar's last will and testament
The will was written in 1733 and executed after his death in London on 10 June 1740. Basically he left his money and estates to his wife Elizabeth (who died in 1752) to use during her lifetime.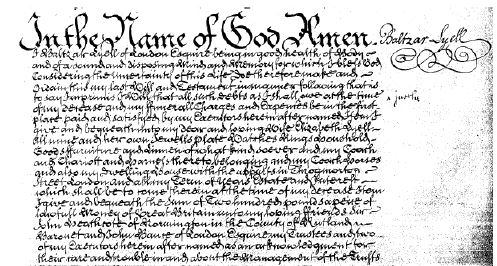 Click on picture for PDF-document
Source:
UK National Archives