Haneberg Farm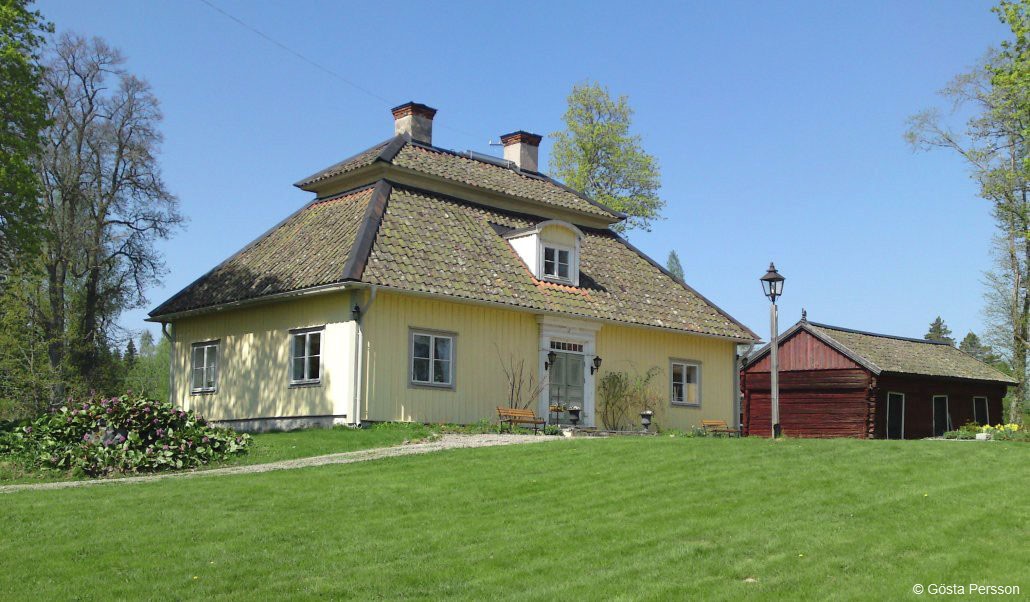 Haneberg Farm in 2013i
Introduction
This article is based on an article published by Gösta Persson in 2013ii. Gösta Persson's article was based on discoveries made in old church records, census records and land records from Enåkers parish. Genealogical notes concerning members of the Leijel family have been added by Peter Leyel.
Haneberg Farm is located in the westernmost part of Enåkers parish, between the lakes Lundviken in the north and Hallaren in the southwest. Haneberg is first mentioned in 1538. It was written as "Hanneberg". Haneberg was then owned by Nils in Hallarsjö. The current main building was probably built in the mid-1600s (and is thus probably the parish's oldest building).
The map below dates from ca. 1640 and shows the farm as Hanebo. The map symbol (yellow circle with a small house with a pennant on the roof above) is designed in a way that is different from most other farms. . It marks a reasonably freehold farm, ie a farm owned by a noble family.
The census data and catechetical entries from the first part of the 1700s called Haneberg in general "Hanbo" or "Hanebo". In the 1760s there was a shift to using the name "Haneberg". Until the 1730s, Anders Larsson and his wife Anna Sivastdotter are listed in the census data and parish registers as living in Haneberg.
The land book for 1725 shows Hanebo's owners as "Mantals Commissarien Roland Persson and his brother Church Official Abraham Printz". Roland Persson Printz (1656-1739) and Abraham Printz (1672-1745) were the sons of Per Swensson Printz of Ingbo mansion in Enåker. Roland Persson Printz inherited Ingbo mansion from his father. Abraham Printz was vicar of Löfsta (West Lövsta) and Enåker.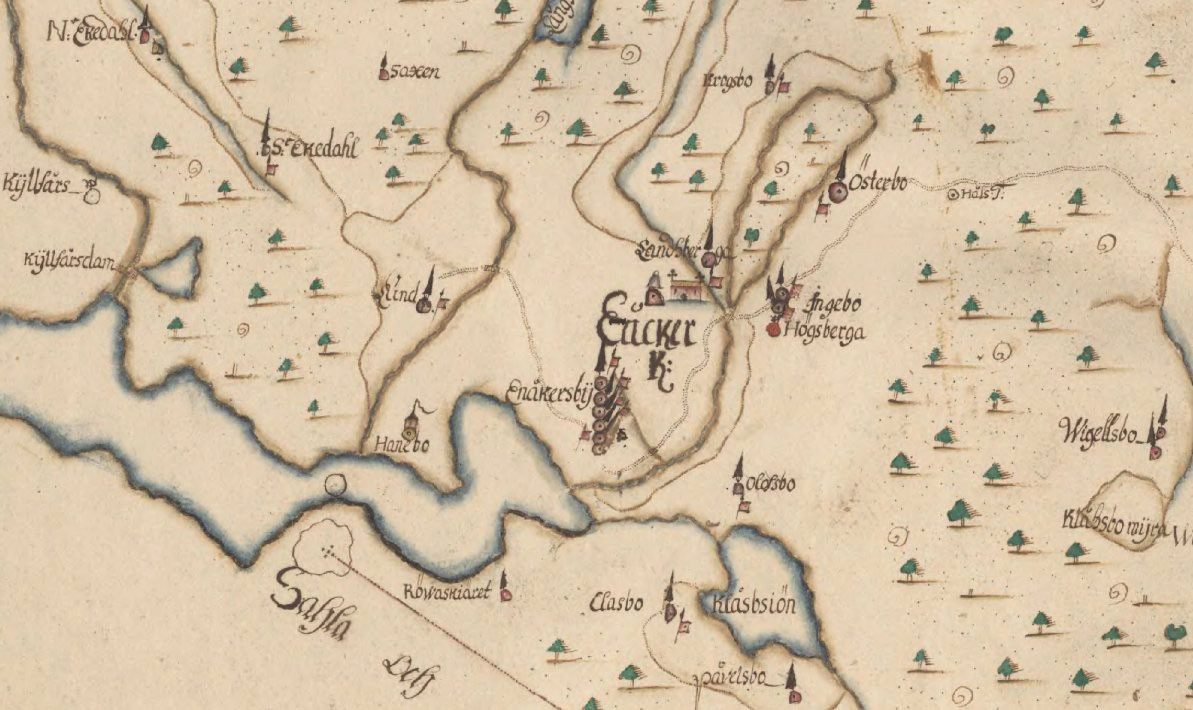 Hanebo in a map of ca. 1640
The Notary Per Roland Prinz was married to Christina Sylvander and they had daughters Catharina Christina and Anna Lisa. After Printz's death, the widow lived there for a few years before moving away. Her daughter Catharina Printz returned to Haneberg in 1766 as the wife of the lieutenant (captain from 1768) Per Wahlberg. Catharina Printz died in 1777, only 32 years old. Captain Wåhlberg lived on at Haneberg until 1786.
In the past year Haneberg had been taken over by the builder Gustav Ekeberg (born in Gothenburg in 1751) and his wife Catharina Charlotta Regnander. Around 1794 Ekeberg took over one of the farms in Lund and the family moved there.
When the builder Ekeberg moved to Lund, Captain Pehr Gustaf Leijeliii took over Haneberg and moved there from Enåkersby.
The Leijel family at Haneberg
Captain Pehr Gustaf Leijel (1740-1809) took over Haneberg (or as it is sometimes written in the 1800s Hanöberg) and moved there with his family in 1802. His wife was Sophia Gustava Tigerhielmiv (1758-1827). She was born in Lindsbro mansion in Östervala as the daughter of the forester Seved Gustaf Tigerhielm and Elizabeth Anckarström.
The couple had four daughters. Oldest was Greta Sophiav (born 1778). In 1804 she married the deputy minister at the Uppsala Cathedral, theology graduate Master George Fredric Fant. The daughter Fredrika Wilhelminavi (born 1780) married in 1819 with organist and sexton of the Stora Kopparberg parish Anders Klingvall and moved to Falun. The two youngest daughters, Johanna Gustavavii (1784-1852) and Louisa Carolinaviii (1790-1846), never married. They lived on the Haneberg Farm for their whole lives.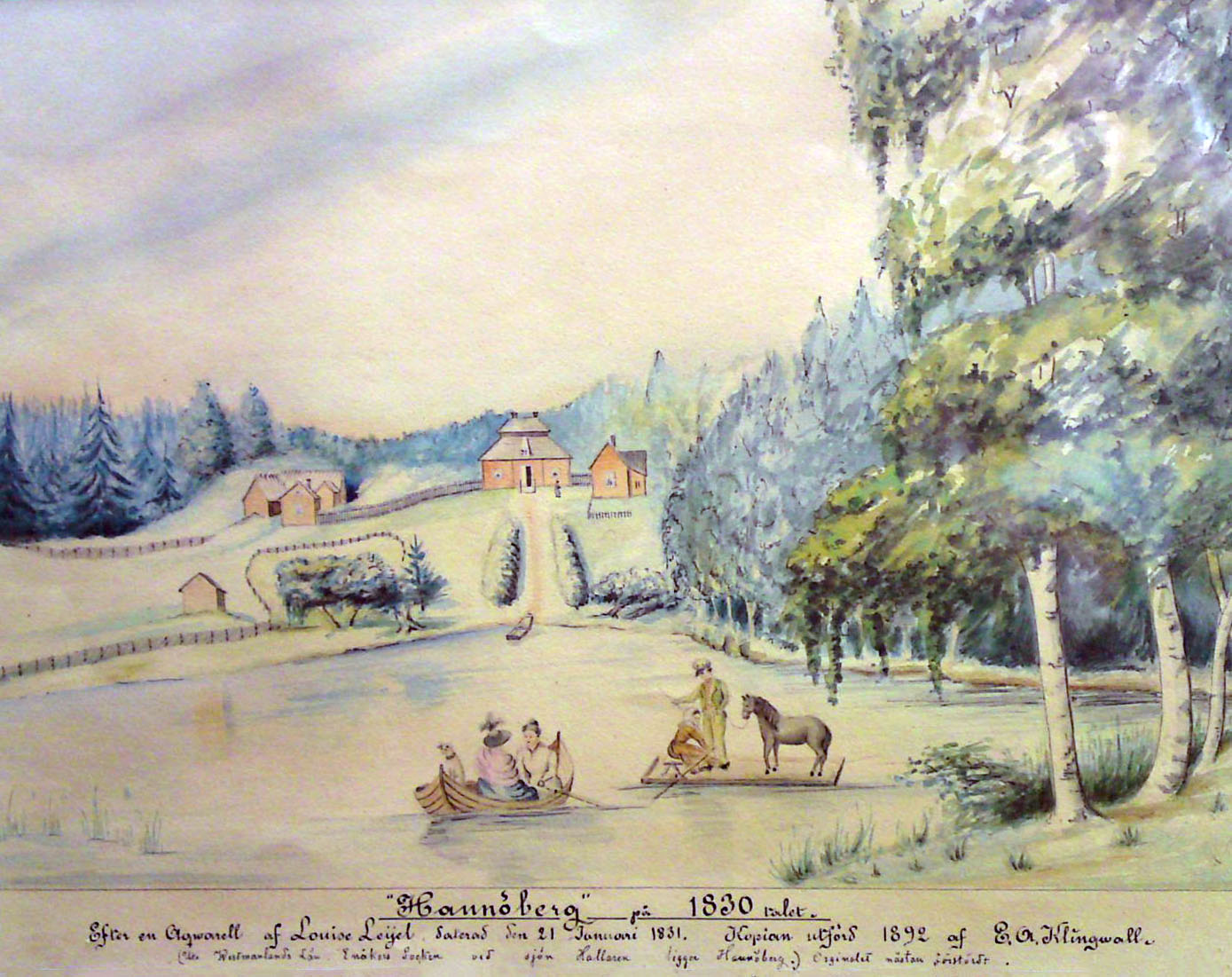 Photo: Gösta Persson"Hannöberg in the 1830s. After a Aquarell by Louisa Leijel dated January 21, 1831.
The copy made in 1892 by E. A. Klingwallix.
Hannöberg is situated at Lake Hallaren in Westmanlands County, Enåkers Parish.
The original is almost destroyed."
Captain Leijel died 2nd Oct 1809. A note in Enåkers in the death and bureal record reads, "dead in the water 2 Oct.". Probably in the lake Hallaren according to Gösta Persson. His whife lived for 20 more years.
The two youngest daughters took over Haneberg. Agriculture was run with the "country farmers" ie croppers. The Misses Leijels' household was headed by housekeeper Miss Carin Hedenberg (1794-1879). After the death of the young ladies Miss Hedenberg moved to a cabin in Bolandet on the other side at Lundvigen. Her maid Stina Cajsa Ersdotter lived in the house until her death in 1910.
Haneberg was taken over by the industrialist Axel Ulrik Söderhielm of Uddnäs. However Söderhjelm never lived at Haneberg.
---
Source:
i From the website http://www.bygdeband.se/?post_type=attachment&p=696139
ii "Haneberg och Hallarsjö i Enåkers socken, Uppland", see http://www.bygdeband.se/wp-content/uploads/uploaded/379/457665_haneberg_hallarsj_ver1_1.pdf
---
Notes:
iii Pehr Gustaf Leijel was born on 15 September 1740 in Dalby Parish, Uppsala, died on 8 October 1809 in Hanöberg, Enåker parish aged 69, and was buried on 22 October in Enåker. His father, Lars Leijel, was born in 1698 at Fleräng Mansion, Gävleborgs Län and served in the army, retiring with the rank of Major in 1762 and dying the following year.
iv Sophia Gustava Tigerhielm was born on 20 Jul 1758 at Lindsbro Mansion, Östervåla parish and died on 7 May 1827 at Haneberg. She married Pehr Gustaf Leijel on 24 Jun 1776 at Lindsbro Mansion.
v Margareta Sofia Leijel was born on 24 September 1778 in Focksta, Hagby parish, Uppsala and died on 21 Jun 1830 in Enåker Parish. She married George Fredric Fant on 13 Jan 1807 in Västerlövsta Parish, Uppsala.
vi Frederika Wilhelmina Leijel was born on 22 Jan 1780 in Fockstad and died in 1841 in Falun. She married Anders Klingvall in Enåker on 17 Oct 1819.
vii Johanna Gustafa Leijel was born in Uppland on 23 June 1784 and died unmarried at Haneberg on 4 March 1852.
viii Louisa Carolina Leijel was born on 3 November 1790 and died unmarried at Haneberg on 27 January 1846.
ix Ernst Anders Klingvall (1855-1929) was the grandson of Anders Klingvall and Frederika Wilhelmina Leijel.